Omar Khan
Omar Khan (USA)
Work Presented
Open Columns Homeostat 2007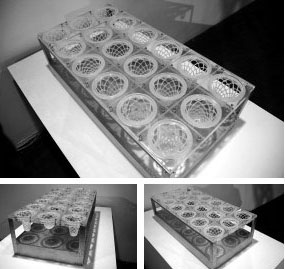 Omar Khan is an architect and educator whose work spans the disciplines of architecture, installation / performance art and digital media. His research and interests deal with responsiveness and performativity in architecture. He is principal of Liminal Projects, a practice that has developed performance spaces, interactive and responsive installations, domestic interiors and award winning competitions.
His work has been exhibited at The Kitchen, NYC; The Whitney Annex, NYC; The Storefront for Art and Architecture, NYC; The National Building Museum, Washington DC; ZeroOne San Jose among others. He was a winner of the Architectural League of New York's Young Architects Forum, 1999.
Omar is an assistant professor in the Department of Architecture at the university in Buffalo (SUNY) where he co-directs the Center for Virtual Architecture.
His current research projects include Machine Vision for Responsive Architecture and Variable Materials: Composite Elastomers. Omar received his Bachelor of Architecture (BArch) from Cornell University and Master of Science in Architecture (SMArch) from MIT where he was a member of the Aesthetics and Computation Group at the MIT Media Lab. He studied with Gordon Pask at the AA as part of Raoul Bunschoten's Diploma Unit 2 from 1990–91.
Open Columns Homeostat from mimetics on Vimeo.