Exhibition
pask present : an exhibition of experimental and contemporary art and design growing out of gordon pask's cybernetic theory and practice.
Dancing robots, singing sculptures and growing metal tentacles are just some of the bizarre
exhibits that will feature in an exhibition of work inspired by eccentric scientist Gordon Pask, one of the forefathers of cybernetics, in… Press Release
Curated by Richard Brown, Stephen Gage and Ranulph Glanville.
Photographs of the exhibition

Videos of the exhibition
The exhibition catalogue: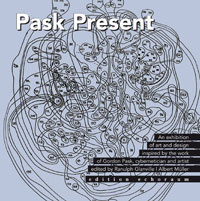 (click image for details on ordering)
The exhibition was held at Atelier Farbergasse, Vienna, 26th March - 4th April 2008.